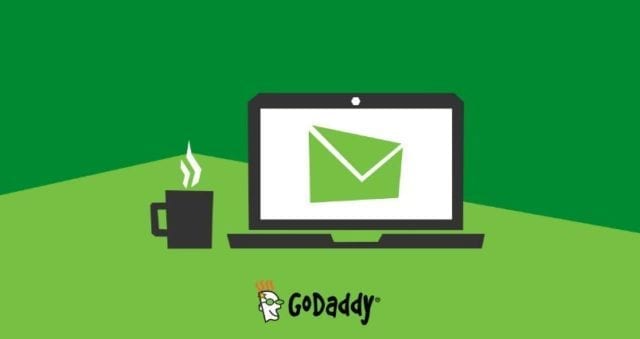 Workspace by GoDaddy
Workspace is the email security solutions one gets on purchasing the hosting from GoDaddy. While email is very useful for any effective business communication, this email solution helps to handle Gmail and GoDaddy email simultaneously in real-time.
If you have such Questions:

Are you looking to move your business emails on cloud?

Do you want to have full-featured web interface for desktop and mobile?

Are you looking for economical emails compared to G Suite or Office 365?
Do you want to access your emails through Fast Asia Pacific-based servers?

Complete web interface for desktop & mobile

Free integrated calendar with each mailbox (1st year only)

Fully synchronized email on mobile and desktop with IMAP

Free online storage (1st year only)

Streamline Lock
Workspace is easy-to-use and easy-to-manage cloud email solutions. It has inbuilt streamline lock that secures crucial emails and other messages.

Affordable
One of the affordable email and domain platforms for 99.9% uptime with 24X7 customer support at a nominal price.

Stay Organized
With inbuilt Internet Message Access Protocol (IMAP), all internet servers and devices will automatically get synchronized and your works will be organized. It works well with Outlook and other tools.

Secure
Many spam filters enable best in class security that eliminates spam and unwanted email to reach your inbox. One can use these filters anytime, anywhere to encourage security within the cloud infra.

Professional Email Address
Opt for GoDaddy's Workspace Email solutions and receive the customized email address like abc@company.com. This professional email address makes the business look more authentic and stable than a generic email.

Great Level of Compatibility
Access GoDaddy's Workspace from any device or operating system anytime. You can access and handle different email applications simultaneously.

Data Storage
Workspace has enormous data storage to store all the crucial business emails. The account retains all the emails in the inbox even if it not cleaned on a regular basis. Store emails securely with no hassles.

Email Backup
Use Workspace email to enable a high level of security for business emails and important messages. If the email or message gets deleted, there is an easy option to back up the same.
Personal Email
2189/User/Year + Tax
Perfect for email using your personal domain
Only availabe in English language
Add a personal touch-use to your domain for your email address
1 Email address per user
1 GB storage
Full-feature web interface for desktop and mobile
Free integrated Calendar and Online storage