Google Workspace (Formerly G Suite)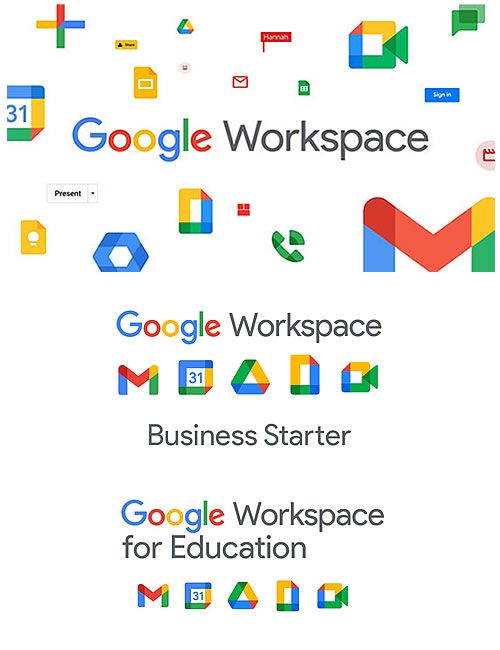 Google Workspace Partner in India – Google Cloud Partner
Google Workspace (Formerly G Suite) is an all-in-one suite of web applications that assists your team to collaborate better and generate business productivity. Formerly known as G Suite, it offers numerous features and functionalities such as Gmail, Docs, App Maker, Google Meet, Cloud Search, and lots more.
Rajinfosys provides services as a Google Workspace Partner in Mumbai-India. Rajinfosys offers Google Workspace deployment management services, data migration, mobile device integration, change management solutions, and a lot more that can help customers to fulfill their unique business needs. The company ensures to serve a cost-effective, user-friendly set of tools that can help your team to collaborate easily.
Google Workspace helps businesses to boost their overall productivity and value significantly with its highly collaborative and seamless tools. It can help to lower the maintenance and IT costs, irrespective of the size and type of business.
If you have such Questions:
Features of Google Workspace
Google Workspace is a strong cloud-based collaboration and productivity tool that ensures a business work efficiently. Trusted by more than 5 million active users, it is designed for your workplace.
Easy Collaboration with Google Docs
Google Docs helps a team to collaborate anytime, anywhere. A team can revise and manage a doc together in real time.

Merge Data On Sheets
Combine your entire data in a single "Sheet" with IMPORTRANGE function. It is recommended to import data rather than merely copying it.

Extract Valuable Work Insights
The Work Insights dashboard help a user to generate information and manage work in a better way. This tool helps to generate analysis, reports, etc.

Close Caption Function in Google Slides
"Closed captioning" feature enables Slides to transcribe whatever a user speaks on the slide. Click on Present and Closed Captioning.

Smart Compose On
A predictive writing suggestion feature that enables Gmail to autocomplete email as a user composes. It auto fills in commonly used sentences, etc.

Security and Compliance
G Suite security platform is designed to detect threats that can affect cloud-based apps. This is trusted by businesses to enable optimum higher security.
Full Administrative and Data Control
Administrators can deeply customize G Suite to meet their technical, branding and business requirements. Integration options let you connect it to your existing IT infrastructure.
Single sign-on API connects G Suite to your existing authentication system.
User provisioning utility and API connects it to your existing user directory system.
Email routing and email gateway support let you run Google Apps alongside an existing email solution.
Email migration utility and API let you bring mail from your existing email solution into G Suite.
System branding and data ownership give G Suite your look and feel, and ensures customer ownership of employee data.
Custom user accounts on your company's internet domain.
Custom logo and colors in the applications.
Contractual customer ownership of employee data.
Benefits of Google Workspace
On expanding upon the ownership of the email account, Google Workspace can help companies increase workplace productivity and eliminate inefficiencies

Data Protection
A user can store, access, manage and share data files safely with G Suite. It ensures to safeguard the business data even when it is lost.
Easy Sharing
You can easily share the Google documents or data files to anyone. You can also restrict another person's accessibility by enabling view-only access.

Unlimited Storage
It provides unlimited storage for your applications, data, files, docs, media, etc. This will help a user to store everything they need.
Economical Platform
The suite plans are economical and with subscription, users can use features such as eDiscovery capabilities, unlimited data storage, etc. Pay as you need.

Business Domain Name
With GSuite, a company gets ownership of the email accounts. Instead of using abc@gmail.com, a user will be able to use abc@companyname.com.

CRM Integrations
G Suite is compatible and highly synced with CRM solutions. This enables seamless communication and reporting where companies can track leads, prospects, etc.
Select Google Workspace Plan
Business Starter
₹ 2,520/User/Year + Tax
Custom and secure business email
100 participant video meetings
30 GB cloud storage per user
Security and management controls
Standard Support
Business Standard
₹ 10,080/User/Year + Tax
Custom and secure business email
150 participant video meetings + recording
2 TB cloud storage per user
Security and management controls
Standard Support (paid upgrade to Enhanced Support)
Business Plus
₹ 15,120/User/Year + Tax
Custom and secure business email + eDiscovery, retention
250 participant video meetings + recording, attendance tracking
5 TB cloud storage per user
Enhanced security and management controls, including Vault and advanced endpoint management
Standard Support (paid upgrade to Enhanced Support)
G Suite for Education
G Suite has come up with Google Apps for Education with an aim to help mentors and students learn and share together in creative ways. G Suite for Education has lots of creative products for students like Google Classroom, Hangout Chats that transform the entire way of learning and teaching simultaneously.
It is the same set of common tools with uncommon and intelligent features like smarter spreadsheets, advanced scheduling, presentations, doc sheets, etc. that makes work easier and help teachers and students to collaborate anytime effectively.
Features of G Suite for Education
Though this suite is not much different from the existing G Suite, however, G Suite for Education has advanced and smarter features for students and teachers. Some of them are:
Summarized spreadsheet data with Explore in Google Sheets
Discover more content with Explore in Google Docs
Dynamic layout suggestions with Explore tool
Virtual meetings with Google Calendar
Automated charts and insights
Find related documents from Drive
Create polished presentations
Suggests a time to solve queries
Translate question into a formula
Make an assignment quickly
Explore limit results with Safe Search
Why Rajinfosys?
Rajinfosys is a Cloud Solutions Company helping clients realize the exciting potential of the cloud to help their businesses grow. We are a leading cloud service company, providing cloud solutions, deployment, and data migration services since 2010. We are an authorized partner of Google, Microsoft, Zoho, GoDaddy, and many more..